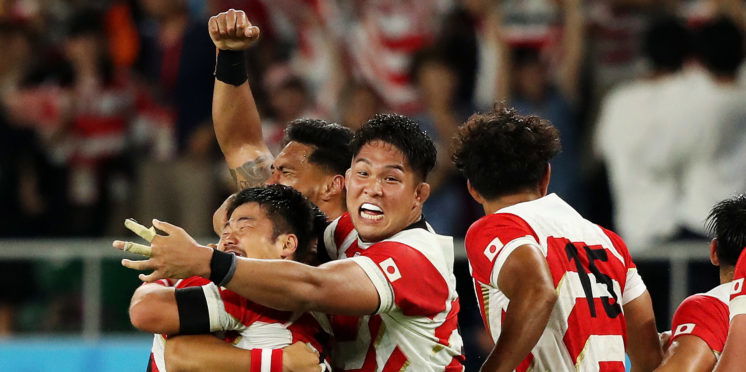 Everything you need to know about the Rugby World Cup Quarter-Finals
After a great start to the tournament, the World Cup starts to heat up with just eight teams left. Hosts Japan have a great chance to go through to the semi-final after finish top of Pool A. Here's everything you need to know ahead of the quarter finals taking place this weekend.
England v Australia
England: WWWD
England were prevented winning all four of their group games by Typhoon Hagibis last weekend. Bonus point victories against Tonga, USA and Argentina propelled England to the top of Pool C. The postponement of the France game meant that England stayed top of their group at the end of all four games. You have to wonder whether England would have benefitted from a tougher test against the French?
Australia: WLWW
A narrow 29-25 loss to Wales in their second game proved to be decisive for Australia as they finished just three points behind the British side. The Aussies did pick up four bonus points during the group stages which will give the side hope that they can progress through to the semi-final stages. It's imperative that they keep things tight at the back.
Date: Saturday 19th October (8:15am UK time KO)
Stadium: Oita Stadium
Referee: Jerome Garces
New Zealand v Ireland
New Zealand: WWWD
Ireland will have to be so careful of New Zealand's attack on Saturday, with the All Blacks scoring 157 points in the three games that they played in their Pool. The three Barrett brothers have been in fine form so far in Japan, with the experienced Sonny Bill Williams still showing why he has been an integral part of New Zealand's side over the years. They will be firm favourites going in to this match.
Ireland: WLWW
Their result against Japan was a big blow for the Irish, considering they were favourites to top the group. A second placed finish in Pool A has meant that they now face the best team in the world in Tokyo. The chances of Ireland reaching the semi-final are now very slim, considering they didn't play at their very best during the group stages. If you're an Ireland fan, brace yourself for a quarter finals exit.
Date: Saturday 19th October (11:15am UK time KO)
Stadium: Tokyo Stadium
Referee: Nigel Owens
Wales v France
Wales: WWWW
Wales came through their group unscathed, winning all four of their games. The Australia game proved to be the biggest test for the Welsh. Despite winning all four games, their defence hasn't been the best that it could be. Conceding 69 points in just four games will be a big concern for Warren Gatland and his side. The formidable attack that they do have could pay dividends in this quarter final clash.
France: WWWD
England's bonus points were the difference between them and France. The French will be frustrated that they weren't able to play against Eddie Jones' side in Yokohama. A win would have been enough for France to overtake England at the top of Pool C. Will the typhoon prove to be France's downfall as they take on a very strong Welsh side on Sunday?
Date: Sunday 20th October (8:15am UK time KO)
Stadium: Oita Stadium
Referee: Jaco Peyper
Japan v South Africa
Japan: WWWW
The host country have been the story of the 2019 World Cup so far. Not only have they overcome the likes of Ireland and Scotland, but they also finished top of their group. There's no doubt that the home advantage will give Japan an edge going in to this game, this may be the best ever chance for the Asian country to reach the semi-finals of a World Cup. South Africa will need to stay strong mentally if they are to avoid defeat this Sunday.
South Africa: LWWW
After losing their opening game of the World Cup to New Zealand, in a respectable 23-13 loss, South Africa have won the past three games. Scoring 185 points in four games is no mean feat. In their three wins, they have conceded just 13 points. They can attack, they can defend. Is there anything they can't do? South Africa will hoping that they can maintain their high standards to keep the Tokyo crowd quiet this Sunday.
Date: Sunday 20th October (11:15am UK time KO)
Stadium: Tokyo Stadium
Referee: Wayne Barnes
What Next?
Saturday 26th October: England/Australia vs New Zealand/Ireland
Sunday 27th October: Wales/France vs Japan/South Africa
---